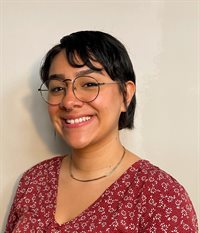 Community-Academic Scholar: Maria Becerra (she/her)
Project: Maria worked with Prof. Grace L. Park, Dr. Margarita Teran-Garcia, and Avicenna Community Health Center to refine existing cultural humility training modules to implement Illinois Extension's cultural humility and bias training to be more tailored to the current needs of the student-run clinic population and volunteer staff. Learn more about the project.
Mentor reflection: Dr. Teran-Garcia was delighted to work with Maria and believes this summer experience solidified her professional goals. "Maria is very professional, self-directed, and attentive to all details of the program, and adapted quickly to whatever situation she was exposed to with a smile." said Teran-Garcia. "This is one of the few times that I did not have to make extensive reviews on a poster."
Do you have a personal story or path that led to your interest in this research project?
I started my freshman year of college volunteering at Avicenna as a Spanish interpreter, and I loved the mission and purpose of the clinic. That was one of the reasons I was really intrigued by this project. The other reason for my interest was the concept of cultural humility. I've touched on it in multiple social work classes and it always interested me, but we never got to explore it in depth, so this seemed like the perfect opportunity.

How has participating in this program helped you toward your goals?
It's changed my views on research. With other research projects I wasn't as passionate or driven because at the end of the journey was just a presentation or publication, but for community-engaged research there is actual action driven by our research, so we can see the effects of our hard work and make a positive impact that is noticeable and tangible, not just a piece of paper.
What was the most meaningful part of this experience?
I think the connections I've made and the conversations I've had with the CAS cohort, but also my community partners, mentors, and everyone that was involved in my project were so energetic and welcoming. I've gained so much knowledge relating to my project and outside of it that will have a lasting effect.
What advice do you have for future scholars or to those who are interested in applying for the program?
Don't be afraid to reach out to everyone you meet during the internship whether it's in your cohort, the CAS staff, community mentors, and community partners. They are so willing to help and talk with you about anything.