Identifying the Changing Responsibilities and Support Needs of Aging Caregivers of Veterans with Traumatic Brain Injury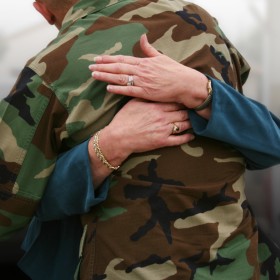 Academic mentor: Prof. Sandraluz Lara-Cinisomo
Community partner: Chez Veterans Center
Community-Academic Scholar: Paola Ahumada
Project description:
There is growing evidence that caregivers of veterans with traumatic brain injury (VwTBI) endure complex demands that have negative psychological and physical consequences. While research on the effects of traumatic brain injury (TBI) on veterans and caregivers is growing, there is a dearth of information on how aging can complicate caregiving. This is particularly important for spouses/partners of VwTBI, who likely also experienced deployment-related stress. However, the long-term effects of these previous stressors on caregivers of VwTBI combined with the long-term consequences of caregiving burden and aging are not well understood.
To provide sustainable care to veterans with TBI, we must understand the changing needs of older caregivers to identify interventions and services to reduce the long-term negative effects of caregiving. The proposed study will conduct six web-based group interviews, each with 5 older (60 years of age and older) spousal/partner caregivers of veterans with mild, moderate and severe TBI to 1) understand changes in responsibilities and capabilities of older caregivers of veterans with traumatic brain injury and 2) identify support and services older caregivers of veterans with traumatic brain injury need over time for sustained wellbeing while aging.
To capture a range of experiences and perspectives, we will enroll 30 caregivers of VwTBI from rural, urban, and micro-urban areas. Interviews will be conducted online using a video-technology platform that has been optimized for use with older adults. Caregivers in Champaign were instrumental in helping us identify this area of research. The study is informed by the Caregiver Advisory for Research Engagement (CARE) Team made up of caregivers in Champaign. Thus, this project engages local caregivers as research partners and study participants. Our community partnership with the Chez Veterans Center is a positive and reciprocal collaboration that has been strengthened in the last four years and will continue to grow as we work with the Center to engage participants.
Role of the Community-Academic Scholar:
The Community-Academic Scholar will help with participant recruitment and enrollment, data collection, data management, and data analyses. Participant recruitment and enrollment will involve reaching out to local and national caregivers support groups to encourage caregivers of veterans with traumatic brain injury to participate in the study. Data collection will include assisting with virtual focus group interviews. Data management and analysis will be closely supervised by a senior member of the research team. The scholar will learn how to manage the data and conduct preliminary analysis, such as univariate and bivariate analysis.