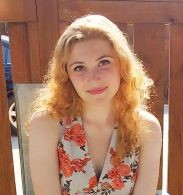 Community-Academic Scholar: Emily Albert-Stauning (she/her)
Project: Emily worked with Professor Laura Rice and the Urbana Park District to design, develop, implement, and sustain a Multiple Sclerosis-specific physical activity program. Learn more about the project.
Mentor reflection: Prof. Laura Rice was highly impressed with Emily's professionalism and engagement with the project. "The Community-Academic Scholars program was a great resource and I feel very fortunate to have been involved with the program. Emily was an excellent student and I know that there were several other highly qualified applicants. Emily's work during the summer was a great resource to help move our program forward and I also feel that Emily had a unique exposure to a highly collaborative research opportunity," Prof. Rice said.
Student reflection: "My participation in the Community-Academic Scholars program deepened my passion and respect for community-based academic research."