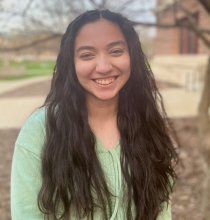 Community-Academic Scholar: Paola Ahumada (she/her)
Project: Paola worked with Professor Sandraluz Lara-Cinisomo and the Caregiver Advisory for Research Engagement (CARE) Team at Chez Veterans Center to understand the changing needs of older caregivers to identify interventions and services to reduce the long-term negative effects of caregiving. Learn more about the project.
Mentor reflection: Prof. Lara-Cinisomo was impressed with Paola's work this summer and enjoyed the opportunity to mentor a highly motivated student who had a desire to learn, grow, and contribute to a meaningful project. "…My hope is that Paola [learned] about the successes and challenges of a community project so that she can develop a project of her own and remain interested in research after the summer," Prof. Lara-Cinisomo said.
Student reflection: "As someone who hopes to go into the field of medicine, I want to have a better understanding not only to how to help people physically but mentally as well. This project shed light on the huge burden caregivers have and finding ways to ease that burden has been an amazing experience."
What advice do you have for future scholars or to those who are interested in applying for the program?
I'd highly recommend applying! Not only was it great exposure to research but also a whole community of advisors and speakers who are happy to answer any questions and give you advice on whatever path you wish to pursue.
What was the most meaningful part of this experience?
I think meeting and getting to know all the other scholars, especially when we feel so isolated at a time like this, it was really nice getting to know other people's stories and research. It helped me better further understand my own interest in research as well and help with my academic development.