Community-Academic Scholars: Student Scholars
Become a Community-Academic Scholar
Develop applied research skills for measuring and maximizing impact
Build cultural and civic skills while becoming a more informed citizen
Strengthen teamwork/collaboration skills by working with both campus and community partners
Sharpen professional communication skills by developing a plan for updating faculty and community mentors on weekly progress
Witness firsthand how your work makes a difference in the local community
Do research with impact
Spend your summer conducting research that makes an impact on our local community. Join us for a virtual info session to learn more about the Community-Academic Scholars program, application process, past projects, and project matching.
Eligibility and preference
Applicants must be undergraduate students in good standing at the University of Illinois at Urbana-Champaign (

students graduating in spring or summer 2023

are not eligible to apply).
Preference is given to minoritized students and to those whose background reflects the communities a project serves.
Program requirements
Applicants are expected to fulfill the specified hourly requirements of their projects over the summer for 10 weeks.
Scholars must create a communication plan for updating their faculty and community mentors on weekly progress.
Scholars must create and present a poster with their summer work at the final awards ceremony on August 9, 2023.
Scholars are expected to attend a program orientation and weekly coffee hours during the summer.
Scholar stipend
Scholars will receive a $4,000 stipend to offset the cost of housing and/or other living expenses during the program.

This stipend will be disbursed in three payments throughout the summer program.
Selecting a project
Projects will address health or social justice in the community. View Summer 2023 Projects.
Scholar applicants will have an opportunity to learn about and rank projects of interest when completing the application.
The Community-Academic Scholars team will match each chosen scholar to the project that most aligns with their strengths and interests.
Application process
The application period for the Community-Academic Scholars summer program typically opens mid-January. Sign up to receive updates about info sessions, project announcements, and more.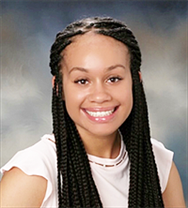 "The most meaningful part of this experience has been the ability to interact with the community members. The University can feel like a bubble, and you miss out on so many connections with such a lively and culture-rich community just five minutes away. It makes it even more important to me because these communities are underrepresented, just as I was while growing up, and I was able to make so many connections with people who looked like me and had the same stories as me growing up."