Research Development Manager Maggie Berg offers insights for health sciences researchers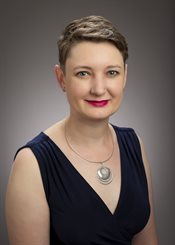 Maggie Berg, PhD, is a research development manager with IHSI. We asked Maggie to talk about her areas of expertise and to provide some examples of how she helps researchers and units across campus advance the health sciences.
Tell us a little bit about yourself and your background.
I have been at the University of Illinois Urbana-Champaign for a long time. I started at UIUC as an undergrad in Animal Sciences and stayed for my M.S. and Ph.D., which were both done in the Microbiology Division of Animal Sciences. During my postdoc, I had the opportunity to work part-time for the Division of Biomedical Sciences (the precursor to IHSI) to manage the Mayo Clinic & Illinois Alliance. I have been at IHSI full-time since 2015 and have supported a few different program areas in that time, including Precision Medicine and Maternal and Child Health. I now lead the Research Development core, which offers proposal development support and develops faculty development and grant seeking training programs like the NIH Grant Writing Series, DoD Grant Seeking Workshop, and peer accountability writing groups. I work closely with the Microbial Systems Initiative leadership to develop workshops, networking events, and research community newsletters, and facilitate collaborative research.
What are some examples of your contributions to grant proposal development on campus?
Most recent, and most notable, would be assisting with an NIH Faculty Institutional Recruitment for Sustainable Transformation (FIRST) Cohort proposal that was submitted on September 24. If funded, this grant could bring about some important cultural changes for UIUC towards advancing inclusive excellence in teaching, research, and innovation. The goal of the proposal is to diversify our biomedical research faculty by studying and implementing improvements in institutional culture, search and hiring practices, and retention practices. This was an incredible undertaking, but I was working with an amazing team led by PIs Cari Vanderpool (Microbiology) and Rachel Smith-Bolton (Cell and Developmental Biology), with the additional support and expertise of Sowmya Anand, an RDM in the Office of Proposal Development.
What other research development efforts are you involved in?
In the field of research development, much like science, it is difficult to do your job well if you do not have the support of a network of colleagues. This is why becoming affiliated with the National Organization of Research Development Professionals (NORDP) and building a professional network of research developers at UIUC and beyond has been invaluable. I am a founding member and former co-chair of the Illinois Research Development Community (RDC), which strengthens awareness of campus research resources, promotes activities and events, and ultimately helps to support the productive conduct of research at Illinois. I have also become more active within NORDP this year. I am currently the co-chair of the NORDP Great Lakes Region Executive Committee and a member of the NORDP Member Services Committee.
Tell us about your passions or any projects or activities that you are particularly excited about right now.
I am very excited about a new program the Research Development Team is designing for mid-career faculty that we are calling the "Emerging Research Leaders Academy." This program will prepare associate professors to take on leadership roles for new campus initiatives, large grants, or administration in their department or college, in addition to enhancing their own research programs.
What's your favorite kind of work? Or, what do you like most about your work?
What has been most gratifying about my work is getting new initiatives and programs off the ground. I think this is why working in the faculty development space to design new programs or improve existing programs is one my favorite things to do. I have been running the NIH Grant Writing Series since I started at IHSI and I worked on a redesign of the program while I was a postdoc. Even though I've been working on that program for 6+ years, no two years of the NIH Series ever feel the same to me—I am always learning from past offerings, making improvements, and meeting new people. Much of my work with the Microbial Systems Initiative has also been in the faculty development space and that has been great because of the added benefit of working with other microbiologists again. I love learning about all fields of science but there is something about having that foundational knowledge that has made my work with MSI more fulfilling.
What advice do you have for beginning, mid-career, and/or established health sciences researchers?
Don't feel like you have to go it alone. There are research development professionals all over campus who have loads of institutional knowledge and are eager to help with anything from strategic planning to proposal development. If you reach out to one of us and we don't have the answer, we can often direct you to someone who does.
You can contact Maggie Berg and the IHSI Research Development team at meberg@illinois.edu.