Community-academic scholars and mentors share their 2023 program experience
The Community-Academic Scholars (CAS) program has offered University of Illinois undergraduate students the opportunity to pursue community-based research projects in Champaign-Urbana over the summer since 2019. This year, 18 dedicated and passionate scholars were selected from a pool of more than 100 applicants to address critical issues related to health, poverty, and/or social inequality in the local community. Now in its fifth year, the program has provided this unique undergraduate research opportunity to 65 scholars who are eager to make a difference in the local community.
"This is our largest cohort to date! We had such a strong pool of applicants for the 2023 program that three of our faculty & community teams chose to fund a second scholar to assist with their summer community projects," said Brandi Barnes, one of the Community-Academic Scholars program directors. "We are so grateful to Prof. Wendy Rogers/ClarkLindsey, Prof. Hyojung Kang/Chestnut Health Systems, and Prof. Karen Tabb Dina/CUPHD for their support and allowing us to accept more students this year than in previous summers."
The scholar experience
During the 10-week summer program, the scholars developed applied research skills for measuring and maximizing impact in their work. The 2023 program featured 15 powerful projects addressing diverse community needs, including substance addiction, postpartum pain, child homelessness, social isolation, food/nutrition insecurity, youth development and well-being, physical activity among people with disabilities, assistive robots in caregiving of older adults, cultural humility and bias, human-centered design in education, local food chains, and accessibility of local businesses.
In addition to the undergraduate research experience, the scholars met weekly for a coffee hour and facilitated discussion, during which program directors, invited researchers, and campus experts provided practical guidance, covering topics such as careers in research, conducting research in community settings, centering anti-racism in research, and presenting research to varied audiences. Scholars also traveled to Springfield to learn from two community-engaged efforts at University of Illinois Springfield, the Innocence Project and the Child Advocacy Studies (CAST) program.
"This program allowed me to develop new skills such as participant recruiting, quantitative and qualitative data collection, and analysis skills that can essentially be useful in any field of interest," said 2023 Community-Academic Scholar Alena (Allie) Kormos. "I am motivated to become a professional advocate for underserved populations and push for implementation of new policies and interventions much needed by many vulnerable populations who may not have the ability, tools, or resources to let their voices be heard."
Each scholar receives mentorship from a faculty or staff member and community collaborator throughout the summer as they work on their project. Scholars acquire the valuable skills needed to not only conduct research, but to understand real, on-the-ground viewpoints and challenges.
The application for Illinois undergraduates opens each year in January. Scholars are selected for the program based on their demonstrated skills needed to work on the project, their personal connections to and passion for the issues their projects address, and for the many ways they have already made an impact on campus and in the community. Through their work in the program, students gain valuable experience, opportunities to participate in research projects, and insight into the world of community-based research.
The mentor experience
Each fall, Illinois faculty and staff are invited to submit a community-engaged research project to the Community-Academic Scholars program. Project submissions must represent an established partnership with a local community organization and address an existing community need related to health, poverty, or social inequality. Faculty interested in submitting a project for the 2024 program should contact Elsa Augustine or Brandi Barnes to learn more.
Academic and community mentors from this year's program expressed their thoughts on the value the Community-Academic Scholars program brings to the community, faculty, and students involved in the program, such as connecting with diligent students, gaining new perspectives, strengthening community relations, advancing research projects, and how the CAS program facilitates the process.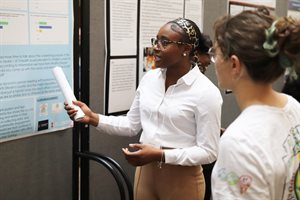 Cori Miles, a 2023 CAS community mentor with Chestnut Health Systems, shared that participating in the program was an excellent experience for their team.
"The students brought a fresh perspective and new energy to our project while getting to experience firsthand how research studies are conducted," said Miles. "We got to share our passion with them and really benefited from having them help with different aspects of the project."
Carrie James, a 2023 academic mentor with the Siebel Center for Design, considers the program an opportunity for undergraduates to explore research before grad school.
"The Community-Academic Scholars program offers university students practical opportunities to engage in research projects ahead of entering graduate school," said James. "I think this helps them to get a sense if this is an avenue they'd want to pursue."
See what other mentors had to say about their experience with the program and view the 2023 celebration video.
The poster session & celebration
On Wednesday, August 9, the program held a poster session and recognition ceremony at the Beckman Institute to honor the 2023 Community-Academic Scholars. The 18 scholars in this cohort represent 18 majors and minors in six colleges, encompassing a diverse array of fields of study, from community health to geography to economics.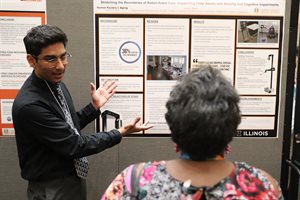 During the poster session, attendees had the opportunity to meet the scholars and learn about their research projects and experiences with the program. Following the poster session, a ceremony was held to recognize the work the scholars performed with their academic and community mentors to make a positive impact in Champaign-Urbana this summer.
"Each student brought unique skills and ideas to their project and walked away with new insights, knowledge, and perspective," said Elsa Augustine, a Community-Academic Scholars program co-director. "Thank you to all of the 2023 scholars and mentors for continuing to make this program meaningful and impactful."
For more information about becoming a Community-Academic Scholar, academic mentor, or community mentor, visit go.illinois.edu/Community-AcademicScholars and contact Elsa Augustine or Brandi Barnes with questions.