Community-Academic Scholars Initiative celebrates 2022 cohort
Since its launch in 2019, the Community-Academic Scholars Initiative has offered University of Illinois undergraduate students the opportunity to pursue community-based research projects in Champaign-Urbana over the summer. This year, 14 dedicated and passionate scholars were selected from a pool of nearly 60 applicants to address critical issues in health, poverty, and/or social inequality. Now in its fourth year, the program has provided this amazing undergraduate research opportunity to 47 scholars who are eager to make a difference in the local community.


"It has been really exciting to witness the organic growth of this program, both in size and in scope, over the last four years," said Kelsey Hassevoort, one of the Community-Academic Scholars program directors. "Our 2022 cohort of scholars brought so much energy and curiosity to their research this summer and they were supported by an incredible community of mentors who showed them how they can use their talents to have an impact in their community, lessons that I know they'll carry with them in their future endeavors."
During the 10-week summer program, students developed applied research skills for measuring and maximizing impact in their work. This year's program included 14 powerful projects addressing diverse community needs, including rural healthcare, poverty and social inequality, nutrition, educational quality, disability awareness, social emotional learning, technology and aging, racial disparities, Veterans' issues, postpartum pain, and social-cultural connectedness among Black youth.
"I've learned an enormous amount of detail about how research grants and research projects work. From participant privacy to HIPAA-compliant data storage, the experience has been great," said Vinh Vo, a 2022 Community-Academic Scholar. "I've learned how to be more professional in dealing with participants in the study and this prompts the reason for strict protocols surrounding the intervention. My experience this summer has solidified my interest to incorporate research into my future career goals."
In addition to the undergraduate research experience, the scholars met weekly for a coffee hour and facilitated discussion. During these discussions, program directors, invited researchers, and community leaders provided practical guidance, covering topics such as careers in research, conducting research in community settings, the intersection of research and public policy, and presenting research to a variety of audiences.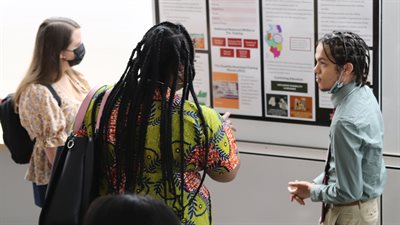 "The most meaningful part of this experience has been all of the seminars on different professional topics, the diversity of topics discussed I believed was incredibly impactful and taught me a lot about professional and career skills," 2022 Community-Academic Scholar Chance Flemming noted.
Each fall, Illinois faculty and staff are invited to submit a community-engaged research project to the Community-Academic Scholars program. Project submissions must include an established partnership with a local community organization and address an existing need in the community related to health, poverty, or social inequality. Faculty interested in submitting a project or learning more about the program should contact Brandi Barnes or Kelsey Hassevoort.
Academic and community mentors from this year's program shared their thoughts on the value that community-academic partnerships bring to the community, faculty, and students involved in the program:
"This was a great program to bridge the community-university divide and to learn firsthand best practices in university-community engagements." Jon Hale, Education Policy, Organization, & Leadership
"This program allows students opportunities to serve in a way that can not only help our community thrive but opens a door of other opportunities that could lead to a professional medical career." Crystal Hogue, Champaign County Christian Health Center
"The CAS program is an opportunity to work with, learn from, and inspire young investigators eager to make a difference in communities!" Sandraluz Lara-Cinisomo, Kinesiology & Community Health
"I thank this program for the opportunity to work with an excellent student, to help her development in addressing community concerns, and to aid a community organization to meet the needs of disadvantaged and underserved people." Warren Lavey, Natural Resources & Environmental Sciences
"The community-academic partnership allowed for a diverse learning experience for Eve and for an engaging project with our students (PhotoVoice) that will hopefully bring about positive change by having a transformative impact on them and our community." Lauren Lenstra, Danville Hope Center
"This program is a great way to connect with students and the community while providing them with a hands-on research experience." Carolyn MacDonald, Department of Psychology
"I love this program! The students are amazing and help me to move my projects forward during the summer. I highly, highly recommend participating in the program." Ruby Mendenhall, African American Studies
"The CAS is a great program in building the future of our university by providing opportunity for experiential education and research exposure to students and connecting university researchers to community to solve real problems." Manabu Nakamura, Food Science & Human Nutrition
"The Community-Academic Scholars (CAS) Program is an excellent opportunity to work with a highly skilled student. This is my second time receiving a CAS scholar for the summer and both experiences brought meaningful results to our lab research." Ashleigh Oliveira, Nutritional Sciences
"This is a great program to become engaged with students across campus and get some unique insight into your project." Laura Rice, Kinesiology & Community Health
"I'm so appreciative to share the University of Illinois Extension community and economic development work and identify new resources and opportunities for communities during this partnership." Jennifer Russell, Illinois Extension
"It is about creating impact and making a difference in the community. The Community-Academic Scholars program is about preparing the next generation of scholars who will lead in this change effort for the good of society." Kevin Tan, School of Social Work
"I have been a mentor for several years and it is always rewarding to see the great experience the scholars get during their summer. It is a great opportunity to bridge academic and community work with engaged partners. It is a win-win opportunity." Margarita Teran-Garcia, Illinois Extension
Each scholar receives mentorship from a faculty or staff member and community collaborator throughout the summer as they work on their project. Scholars learn the valuable skills needed to not only conduct research, but to understand real, on-the-ground viewpoints and challenges.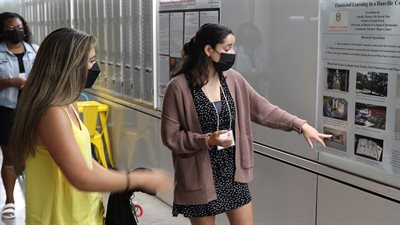 "Being able to develop a relationship with Ashleigh Oliveira and Dr. Nakamura at the EMPOWER lab has been immensely rewarding for me this summer. I had never done undergraduate research before this, so I learned a great deal from them about how labs are run and how research is conducted," said Alison Brandvold, a 2022 Community-Academic Scholar. "Forming a relationship with my community partner and everyone who worked on the research team has been the most meaningful part of this experience. I felt so welcomed into their community and it was great to have so much help and support with my part of the project," 2022 Community-Academic Scholar Eve Rubovits said.
The application for Illinois undergraduates opens each year in January. Scholars are selected for the program based on their demonstrated skills needed to work on the project, their personal connections to and passion for the issues their projects address, and for the many ways they have already made an impact on campus and in the community. Through their work in the program, students gain valuable experience, opportunities to participate in research projects, and insight into the world of community-based research.
"This project has helped me develop research skills that I will continue to use throughout my career. I have also been able to create a strong network of students, faculty, and staff that are dedicated to research that will improve their community," said Matthew Jenkins, 2022 Community-Academic Scholar. "This experience has given me a strong foundation for possible future careers and helped me understand how professional research is conducted."
On Tuesday, August 2, the program held its first in-person poster session and recognition ceremony since 2019 to honor the 2022 Community-Academic Scholars. The 14 scholars in this cohort represent 13 majors and minors in five colleges, encompassing a diverse array of fields of study, from health sciences to political science to landscape architecture.
During the poster session, attendees had the opportunity to meet the scholars and learn more about their research projects and experiences with the program. Following the poster session, a ceremony was held to recognize the work the scholars have been doing with their academic and community mentors to make a positive impact in Champaign-Urbana this summer.
"It was really rewarding to see our scholars present their work during Tuesday's poster session," said Brandi Barnes, another program director. "They all did such an amazing job this summer and that was reflected in their final presentations. It was also great to hear that many scholars plan to continue their community-engaged research efforts into the fall."
"Since we founded the Community-Academic Scholars Initiative in 2019, we have learned so much from our scholars and mentors and have used these insights to improve the program each year to better meet the needs of the students, faculty, and community partners who participate." said Hassevoort. "The program continues to evolve, and I am excited to see what it will look like in 2023!"
See what participants had to say about their experience this summer: Watch the video and view the scholar impact stories. For more information about becoming a Community-Academic Scholar, academic mentor, or community mentor, visit https://go.illinois.edu/Community-AcademicScholars. Please contact Kelsey Hassevoort with questions.