IHSI welcomes Dr. Stephen Boppart as Interim Director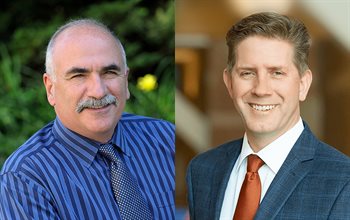 Beginning August 16, Grainger Distinguished Chair in Engineering and Professor of Bioengineering and Electrical and Computer Engineering, Stephen Boppart, MD, PhD, will serve as Interim Director of the Interdisciplinary Health Sciences Institute as Professor Neal J. Cohen steps down as Director and begins a well-deserved sabbatical.
Vice Chancellor for Research and Innovation Susan Martinis commended Cohen's leadership. "As Founding Director of IHSI, Neal has been a visionary leader, working out in front and also behind the scenes to implement programs and services that have had a profound and lasting impact on our research community."
Under Professor Cohen's leadership, IHSI has contributed to the expansion of Illinois' health sciences research infrastructure, developed education and training programs, and helped to launch strategic initiatives like SHIELD and SHIELD CU. Professor Cohen also led the Health Sciences Strategy Task Force in 2017, whose final report informed The Next 150 Strategic Plan, and played an instrumental role in the creation of the Carle Illinois College of Medicine, the nation's first engineering-driven college of medicine, while also serving on multiple governance committees for the College and for the Carle Illinois partnership. In addition to serving as IHSI's Founding Director, Professor Cohen's other leadership roles have included serving as the Illinois Chair for the Mayo Clinic and Illinois Alliance for Technology-Based Healthcare, as well as Co-Lead for SHIELD CU.
Professor Boppart brings more than 20 years of experience in interdisciplinary collaboration and fostering connections between academic and clinical partners to advance translational research to his role as Interim Director of IHSI. He served as the Founding Director of the Mills Breast Cancer Institute, where he led the development of new infrastructure to support translational research and technology development in biomedical research between the University of Illinois and Carle Foundation Hospital. He has co-founded four startup companies and has published over 450 invited and contributed publications and over 50 patents related to optical biomedical imaging technology. Boppart has also been involved in envisioning, establishing, and developing the engineering-based Carle Illinois College of Medicine, where he serves as Executive Associate Dean and Chief Diversity Officer.
Professor Boppart will also lead the Chancellor's Health Innovation Visioning Committee to assess the University of Illinois Urbana-Champaign's health innovation assets in the colleges and institutes. This team will propose the future role of Illinois as a pioneer in establishing a new technology-driven academic health research and education model that makes a significant, visible, and sustained impact on human health.
A tireless advocate for envisioning and developing technology to improve human health, Professor Boppart is well positioned to make significant contributions to the development of the University of Illinois' health sciences ecosystem in his new roles as Interim Director of IHSI and chair of the Health Innovation Visioning Committee.
"The Health Innovation Visioning Committee is charged to reach out to all stakeholders across campus and envision the future impact that the University of Illinois Urbana-Champaign can make in technology-inspired health to improve the human condition," said Boppart. "The capabilities and infrastructure that Prof. Cohen and the dedicated team at IHSI have established are poised to help address the growing critical needs for our personal, societal, environmental, and global health, and I am thrilled to begin working with IHSI and the Visioning Committee on these strategic directions."